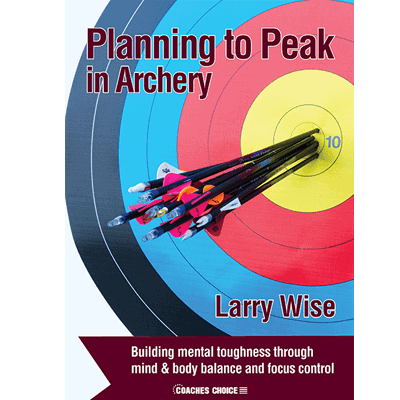 PLANNING TO PEAK IN ARCHERY is new thinking by highly experienced archer and educator, Larry Wise, about how to manage your ability to focus while executing each and every shot. In any repetitive-action sport, like archery, golf, place kicking, darts, etc., athletes perform a set of ordered physical actions so they can efficiently repeat their effort but far too many athletes neglect to control their thinking in a similar and ordered way.
As the title indicates, the athlete or coach will read how to plan for the many aspects of the archery mental game. This includes establishing a proper perspective, writing goals, setting training plans, planning practice sessions, pregame routines and the important prestart routine for just before the start-whistle sounds. You will also learn how to construct an on-site tournament practice session, use self-talk skills and how to evaluate your performance following the tournament.
The book's longest chapter is devoted to overcoming target panic. Learn how to establish a set of mental and physical steps to help any archer with this dysfunction rebuild their proper thinking and shot execution skills.
An entire section of this book is devoted to helping archers develop a proper attitude. You'll learn about the importance of the three C's (commitment, composure, and confidence), establishing the proper competitive mindset and why pressure is a myth.
Most importantly, you'll learn how to avoid the thought-lottery and its many pitfalls by constructing and following a written focus map to guide your mental focus as you perform. Following your mapped thought-plan, you can learn to synchronize your mind with body as you execute each shot. This present process thinking focus-map, is a simple concept that can be visually drawn, on a template, to sequence mind-manage focus with body-feel focus along with breathing and visual focus points. Template models are provided to do this.
Mapping these performance aspects, on paper, allows both the athlete and coach to truly be on the same page, and gives the athlete a solid planned path to their peak.
If you have any questions or would like to inquire about coaching sessions with Larry Wise, please click here.
---
DIRECTIONS FOR DEVELOPING A FOCUS MAP:
Download and use the Focus Map Template to build your personalized focus shifting plan. In the beginning use a pencil and have an eraser handy so you can adjust your plan as you find what works for you and your shot-making process.
Follow the directions of Chapters 17 through 20. As you practice your plan and your skills increase you will find yourself doing more shifting to your Body-Feel focus as illustrated in the higher-level samples. As more time passes, your plan will get simpler to execute in a smooth and flowing manor. Use the sample completed plans as a guide over the months it will take you to develop your own unique and smoothly functioning focus map.