Since 1996 I have been training or coaching at all three Olympic Training Centers. In 1998 I traveled to Israel to coach at the Keshet Eilon Master Violin Course where each day the violinists could learn how to shoot archery to enhance their playing ability – don't forget that the ancestor of all stringed instruments is the archery bow!
Since then I have traveled numerous times to England, Ireland, New Zealand, Australia and Colombia. I have also conducted over a hundred two-day shooting schools here in the US plus private coaching at my home here in Pennsylvania.
I am certified as an NFAA Master Coach and a USA Archery Level 4 Coach with National Training System -Recurve certification. I have also been involved in writing the new National Training System for Compound.
Please call if you have any questions or inquiries about your own personal coaching or if you have a group that is interested in learning more about improving their shooting skills
•Learn the up-to-date NTS shooting technique that is biomechanically efficient, reliable and consistent.
Currently, I offer the two shooting schools below. I can conduct these schools at archery dealerships across the country. Please take a look and don't hesitate to contact me with any questions.
Two Day Shooting School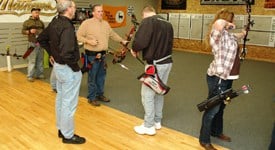 The two day shooting school involves 8-15 archers.
Individual Coaching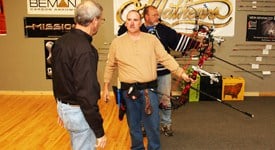 Individual coaching involves 1-3 archers.
If you have any questions or would like to inquire about coaching sessions with Larry Wise, please click here.